Case Study
Application Technology generally adapted for parts is described below. Please contact us through 'Contact Us > Q&A' for more details.
POSCO Body Concept for Electric Vehicle(PBC-EV)
POSCO Body Concept for Electric Vehicle(PBC-EV)
Global warming has serious impact so as to change the entire automobile industry. As vehicle CO2 emissions have been recognized as main cause of global warming, emission regulations have been coming into force on the automotive business. Furthermore, automotive companies have tried to not only improve the efficiency of internal-combustion engine but also concentrate on the development of eco-friendly car using electric motor system along with market conditions of high oil prices due to depletion of fossil fuels.
EV Body absorbs and distributes the crash energy from a car accident, and plays a role of securing safety of drivers and passengers by minimizing its impact. In case of an electric car, it has an additional role of keeping the battery from being damaged. POSCO GIGA steel is applied in this concept. The PBC-EV(POSCO body concept for electric vehicle) shows an integrated solution. The model is extensively adapting POSCO GIGA steels for achieving a safer and lighter body, showing a better competitiveness compared to other competing material such as aluminum and carbon fiber reinforced plastic(CFRP), etc.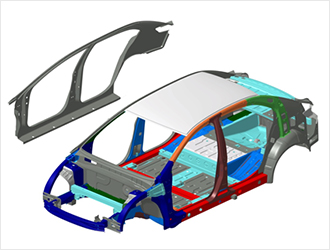 Important Performance - Lightening
Once GIGA steel is applied, the total car weight gets lighter compared to the other cars on the same class, since the component thickness applied to the body can be thinner. Lighter weight naturally enhances the fuel efficiency of the car.

Important Performance - Safety
According to the test result through a crash simulation, it has been verified that the battery has no damage and the driver and passenger are kept under the safe condition (Crashworthiness secured through 'Euro NCAP 5 star& IIHS good rating')

IIHS50km/h new MDB
FMVSS 214P32km/h 75Deg rigid pole
IIHS4.0 X CVW
IIHS25% Offset Small Overlap Impact
FMVSS30180km/h 100% Overlap
IIHS64km/h 40% Offset
POSCO Battery Pack for Electric Vehicle(PBP-EV)
Electric car battery pack stores power from external power, provides it to the motor, and generates the electric car. Battery pack has the cooling device for discharging heat, emitted at the battery cell while charging and discharging, towards outside in an efficient way. GIGA steel is applied for protecting the battery cell during the car accident. Also, the mileage of the electric car is able to be enhanced by reducing the battery pack weight, through applying GIGA steel. POSCO has developed POSCO battery pack for electric vehicle(PBP-EV), which is a safer and lighter battery pack for the electric vehicle. This applies GIGA steel, stainless steel and wire material.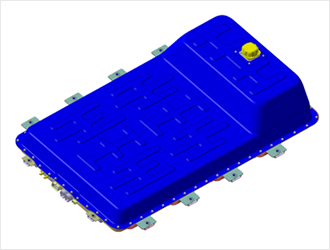 Favorable battery pack condition
Heat radiation characteristic should be excellent, for emitting the heat towards outside.
Battery pack case should be durable, so that the cell module is protected during the car accident.
Battery pack should be able to be used for a long period while driving, without deformation or deterioration.

Concept definition
Design
Feasibility validation
Prototyping/assembly
POSCO Suspension Concept(PSC)
Suspension determines the basic performance of the car, connected to the floor part. It also plays a role of absorbing crash energy from the road, to prevent them from being delivered to drivers and passengers. By using GIGA steel, POSCO has developed a unique suspension concept, PSC, with superb strength and durability while lightening the weight by 14~20%. This POSCO suspension concept(PSC) above involves 2 different types: POSCO suspension concept for multi-application(PSC-MA), applicable in an electric car and an internal combustion engine-based vehicle, and POSCO suspension concept for electric vehicle(PSC-EV-4WD), designated for the four-wheel driving electric car.
Result - 1. PSC-MA, POSCO Suspension Concept for Multi Application
PSC-MA is the suspension concept widely applicable into the electric vehicle and the internal combustion engine-based vehicle. This consists of the front suspension with a McPherson strut, and the rear suspension with a 'coupled torsion beam axle(CTBA)' having a simpler shape and lighter weight.

Rear Suspension(CTBA)

고강도강판 적용비율 : 90.5%, 기가스틸 적용비율 : 32.4%
줄어든 무게 : 4.4 kg (20.0% 감소)

Front Suspension(McPherson)

고강도강판 적용비율 : 97.8%, 기가스틸 적용비율 : 70.0%
줄어든 무게 : 5.2kg (20.0% 감소)
Result - 2. PSC-EV, POSCO Suspension Concept for Electric Vehicle
PSC-EV-4WD is the suspension concept designated for the four-wheel driving electric vehicles. This consists of the front suspension with a McPherson strut, and the rear suspension with a multi-link type for attaching the driving motor on the back also. According to the designing result, PSC-EV-4WD has reduced the suspension weight by 17.1%.
Front Suspension(McPherson)기가스틸 적용된 설계
Rear Suspension(Multilink)기가스틸 적용된 설계
Battery Pack (>60kWh)고강도강 적용된 설계
Battery Module솔루션 사용된 설계
Front Suspension (McPherson Strut 방식)

고강도강판 적용비율 : 97.8%, 기가스틸 적용비율 : 70.0%
줄어든 무게 : 5.2kg (20.0% 감소)

Rear Suspension (Multilink 방식)

고강도강판 적용비율 : 88.5%, 기가스틸 적용비율 : 48.1%
줄어든 무게 : 3.9 kg (14.3% 감소)
POSCO Body Concept for Light Duty Trucks(PBC-LT)
Light duty trucks have formed the second largest market around the world next to passenger cars. The need for fuel economy is greatly increased by reinforcement of exhaust gas and fuel economy regulations. Especially in the automobile markets of North America, sales figure of full-size pickup trucks (Ford F series, Chevrolet Silverado, etc.) has been maintained as top 1 or 2 among light duty trucks. It would be essential to achieve light weight of such models in order to satisfy the Corporate Average Fuel Economy (CAFE) regulation of North America. Accordingly, POSCO attempts to provide an outstanding steel solution for a variety of vehicles by developing PBC-LT, which is a light-weight and safe car body made of steel, for both passenger cars and full-size pickup trucks.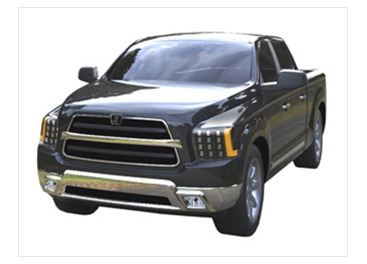 Result - Advanced Steel Technology of POSCO
Same as PBC-EV, the development of PBC-LT was focused on two points. First is the application of advanced steel material. Advanced steels of POSCO such as Giga-level DP, TRIP, Mart and HPF were applied.
Especially, Giga-level UHSS was applied to over 50% of material to increase strength of the entire frame and car body.
Second, to expand application of advanced steel, we optimized existing methods such as TWB (Tailor Welded Blank), HF (Hydroforming), HPF (Hot Press Forming) and RF (Roll Forming) and applied new methods such as tailored HPF and multi-strength HFP.

Result - Lightening
PBC-LT successfully reduced weight by 20% compared to existing full-size pickup trucks through over 68% of AHSS and over 50% of UHSS. Also, we have embodied a solution to obtain excellent results in terms of collision laws and product evaluation in North America by increasing strength of car body. Such development results suggest that expanded application of advanced steel materials such as AHSS and UHSS is the most efficient way to develop safe and light-weight cars.